Our Trailers -Mobile Refrigerated & Freezer Trailer Rental Solution in Westlake Village, CA
PHATFRIDGE offers Polar King Trailers®, the Mobile Refrigeration Industries best. Our trailers are NSF approved. Their rugged, seamless fiberglass design with 4" thick walls and keg duty floors hold temperatures to as low as 0 degrees, making them versatile refrigerators or freezers. Their big pallet size 54" doors make it easy to get products in and out, plus the doorways have cool curtains to help maintain temperatures while the door is open. The Antimicrobial Gel Coated Interiors make it easier to keep interior surfaces clean and sanitary. Our interiors are also equipped with super bright LED lights. Need help staying organized, PHATFRIDGE offers NSF shelving at no additional charge.
The Refrigeration Units themselves are nothing less than spectacular. Each PHATFRIDGE is powered by the German Made GOVI ARKTIK 2000US® refrigeration units. They are as tough and reliable as they come. Not only will you not have to worry about your products keeping at your desired temperature, but you'll barely be able to hear the unit running. Anyone can have a lowkey conversation while standing right next to it while it's operating. As far as energy use is concerned, the GOVI® can be plugged in virtually anywhere. The unit runs on 110 volts, 60Hz and requires only 15 amps, basically, your typical household outlet. It's truly is plug and play. If you don't have the convenience of a plug nearby, no worry, PHATFRIDGE offers Dual Fuel Inverter Generators to power our units anywhere, additional charges apply.
PHATFRIDGE has 2 different sizes trailers to offer, 6'x12' or 6'x16'. We serve Southern California from San Luis Obispo to San Diego. Please contact us for additional information, any questions you may have, or to reserve a PHATFRIDGE today.
---
Refrigerated Trailer
6' x 16'
Rent our 6' x 16' refrigerated trailer. This is our largest trailer available.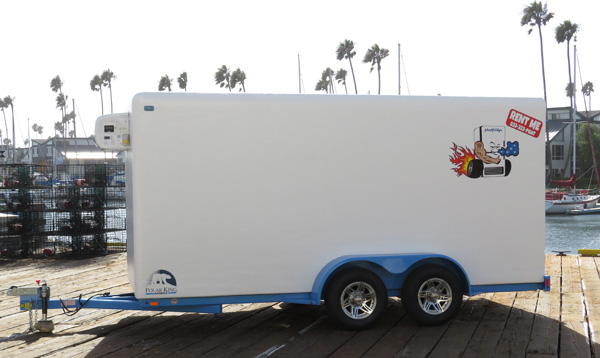 "
---
Plenty of cool storage!
See for yourself.
Our mobile storage solutions offer plenty of cold storage space!